Reading...A Sense of the World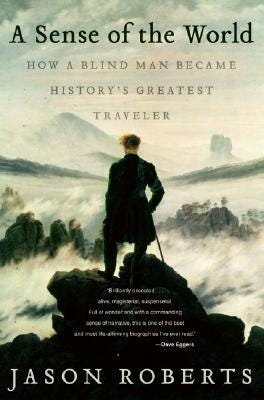 A Sense of the World, by Jason Roberts is the biographyof a man who, despite having lived a remarkable life, was nearly lost to history. Roberts found mention of James Holman by chance, a single paragraph in a book about unique travelers. It inspired him to do more research, and in doing so he uncovered the story of a man who loved learning, craved adventure, and wanted to explore the world. After serving for three years in the British navy, Holman developed a disease that caused him to go blind. As the fourth son of a chemist, he had little money and his future to anyone else might have seemed grim. But Holman held on to his dreams and remained undaunted. He found a way to travel literally around the world -- and then some -- experiencing it through sound and smell and touch. And as he was traveling on a tight budget, he arranged and conducted his travels primarily on his own. But he made friends wherever he went, and inspired others along the way.

I don't read a lot of nonfiction, but I do enjoy a good biography, and this is certainly a good one. I especially appreciate how the author counters the 18th century thoughts and prejudices of blindness against the realities. He clearly did his research, and I appreciate his effort to dispell myths, some of which prevail even today. The author writes with a fondness for James Holman, which gives an added bit of life to the story.

Pick up this book if you like history, a well-written biography, or have that yearning for travel and adventure.