Reading...Beautiful Ruins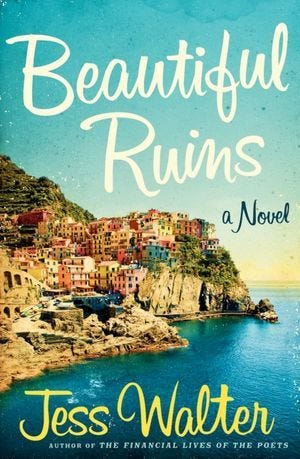 Beautiful Ruins by Jess Walter will make you desperate for a trip to the Italian coast. The story begins in the mid 1960s as an American actress shows up in the tiny village of Porto Vergogna, an almost non-existent village just below the Cinque Terra in Italy. The actress is ill, and has come to Hotel Adequate View to wait for a friend who will meet her there. As she waits, she captivates Pasquale, the young man who has come home to Porto Vergogna to care for his dying mother and his late father's hotel.

The story then jumps ahead to the present day, and a young aspiring film maker well on her way to becoming a first-class cynic, working for a legendary producer whose most recent success is a reality show called Hookbook.

As the story jumps between the 1960s and present day, we meet a young man with a screenplay, a legendary actor, and a failed junkie musician. The stories slowly spiral closer together, and we are given stories of love: of passion and lust, of self-love and preservation, of captivation and understanding, of responsibility and family. A story of love that is just waiting for the right time. We see how other people touch our lives in profound ways, and in deceptively small ways, bumping us slightly off our original course, but maybe in a direction that is better.