Reading...Heirs and Graces

t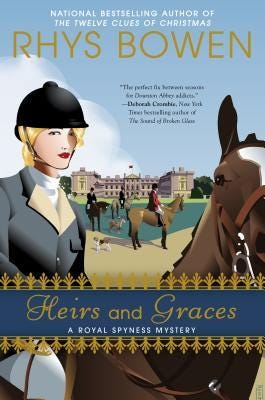 Georgie is a poor aristocrat relying on her connections to get by -- something not uncommon in 1930s Great Britain. When Georgie finds herself at loose ends, she agrees to do a favor for the Dowager Duchess of Kingsdowne Place. The Dowager's oldest son refuses to marry and produce an heir, leaving the family seat in danger of dying out. When the Dowager begins a search for any living relative that could inherit, her detectives discover that her younger son -- who was killed during WWI -- had a wife and son in Australia. The Dowager sends for the previously unknown grandson, and tasks Georgie with helping Jack learn about life as the heir to a dukedom.In addition to the Dowager and the Cedric -- the oldest son and current Duke -- the Dowager's daughter Irene and her three children are also living at Kingsdowne Place, along with the Dowager's two sisters, a tutor, and some of Cedric's friends. When Cedric turns up dead not long after Jack's arrival at Kingsdowne there are plenty of suspects to choose from, and everyone is quick to point fingers (with the small exception of the Duchess' sisters, who mostly just want to throw seances every night).
Heirs and Graces is the kind of book that begs to be read in one sitting, with a cup of tea and some shortbread biscuits. It's a solid mystery with a fun and light tone, a delightful heroine, and a vivid setting. It's the seventh in the Her Royal Spyness series, although I didn't realize that when I picked it up at a used book store. Fortunately -- although I'm sure reading the previous books would have added depth to some of the characters and relationships -- I had no problem jumping in at this point in the series.
Bottom line: if you enjoy your mysteries cozy, or find yourself missing Downton Abbey, give the series a try.