Reading...I Capture the Castle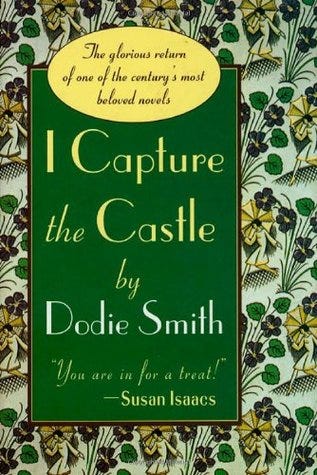 I have several books that sit on my Kindle that are kind of "backup" books. Books I purchased because I wanted to read them someday, but I want to pull them out when I'm not in the mood for something else, or I've hit a crossroads when it comes to 'what to read next' or I don't have any library books. I Capture the Castle, by Dodie Smith was one of those books. And I admit that I bought it so long ago, I'd even forgotten what it was about. But sometimes, that's a pretty great experience, and it certainly was with this book. I Capture the Castle is the story of a family, a snapshot of their life told through the journals of Cassandra, the middle of the three Mortmain children. It's the mid-1930s in rural England, and the Mortmains are a once upper-middle class family who have run out of money. Mr. Mortmain is a famous literary author whose critically acclaimed book has stopped earning money. Mr. Mortmain sits all day in what is essentially his study or office and reads books or works crossword puzzles. The children's mother is deceased, and Topaz -- Mortmain's wife -- is a former artist's model whose earning potential we quickly discover is small at best. Rose, the eldest daughter, bemoans the family's poverty and longs to find herself a rich husband ala a Jane Austen heroine. Thomas, the youngest, has a scholarship and attends a good school. Cassandra wants to be a writer, and has begun practicing speed writing with the thought of one day training to become a secretary. Stephen, the orphaned son of the family's former housekeeper, helps around the castle, in the garden, and eventually gets a small job at a neighboring farm. The family lives in a crumbling down old castle with a Tudor home built into the ruins. Cassandra begins keeping her journal to capture life at the castle, and ends up capturing a brief period of time in which life changes quite dramatically.

I don't have much to say about this book except it was really just delightful, quietly funny and engaging. Smith does a great job of evoking a sense of place, and I really felt like I'd taken a little mini-vacation to rural England by reading this book. It's a book about family, friendship, romance, and making your own happiness.