Reading...One Plus One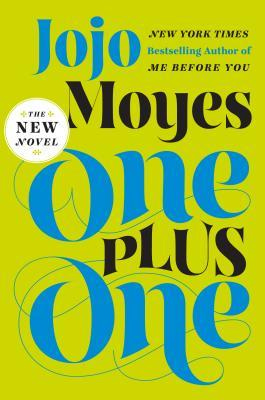 Why hello there, internet. Long time no see. Apologies for my absence....I was busy being sick...and then getting ready for camp. And probably just kind of being lazy a few days in there too. It's hard to get back in the groove when you've gotten out of it.
Anyway...while camping in the sweltering heat with a bunch of teenagers for a week may not sound like everyone's idea of a vacation (it was awesome, by the way!), I did do one traditionally vacation-y thing last week: I read a book! A whole book, start to finish.
You may remember how much I loved Me Before You. After I finished it, I just wanted more Jojo Moyes, so I immediately placed One Plus One on hold at the library, and it conveniently became available just before camp. I'd say it's not as technically well-written as Me Before You, but it's every bit as enjoyable. Jess is a single mom struggling to make ends meet and care for her doesn't-fit-into-this-small-town-slightly-goth-but-very-sweet stepson and her quirky and maths-crazy daughter (who perhaps has a touch of Asperger's? It's never really gone into in the book, but could be a possibility). Ed is a wealthy programmer and tech geek who is getting ready to go to trial for insider trading. He's laying low per lawyer's instructions and Jess is trying to get her daughter to a Maths Olympiad in Scotland. Jess and her friend -- who work as house cleaners -- have been cleaning Ed's coastal house for quite a while, but their first in-person encounter doesn't leave much of a favorable impression. When Ed happens to come along when Jess's plans get derailed, he offers to give her, the kids, and their huge dog Norman a ride to Scotland.

One Plus One is a love story, a family story, a story about finding your tribe, about optimism and disappointment.