Reading....Pardonable Lies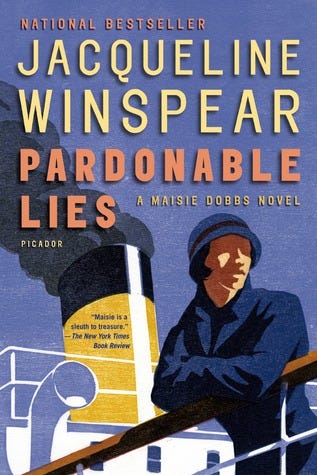 I love Maisie Dobbs (here's where I thank the lovely Rita for introducing me to her). They are quiet mysteries, but not boring. Jacqueline Winspear creates a sense of place that goes beyond just the location of England, but of the time -- the changes and struggles of post-World War I Europe. And she does it subtlely, not with broad, sweeping commentary, but with personal interractions. The mysteries have that classic feel, but with a twist -- mainly in Ms. Dobbs herself. Not only is Maisie unique as an independent, single woman who owns her own business -- the forerunner of the middle class -- she is a woman who has studied meditation and psychology and yoga. And she just might have a bit of a psychological "gift." It keeps this classic, historical detective story fresh and interesting.

I also like that while each book has a mystery or mysteries that are solved by Maisie by the end of the book, the characters continue to grow and change throughout each book. Pardonable Lies is the third book in the series, and is as much about Maisie's experience in the war and her relationship with her mentor as it is about the mystery. Maisie's demons come back to haunt her and you're not really sure at the end if she's gotten rid of them or just buried them more deeply.

Bottom line, if you like quiet mysteries, historical fiction, and a strong heroine, you'll love Maisie Dobbs.