Reading...Start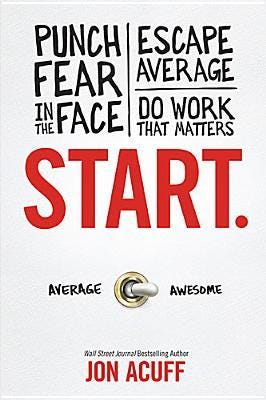 I did a mid-week check of my 2016 goals today.

Hahahahaha! Yeah...it's a good thing the year isn't over yet. But one thing I HAVE done is completed my goal of reading two non-fiction books this year. Score! I may even read another!

The latest book I read was Start, by Jon Acuff. Start is a motivational book that encourages readers to dream big, and to believe that pursuing and reaching those dreams can be a reality. Start is a nice mix of idealistic and practical. Acuff gives readers a challenge: to identify their "awesome," that thing that makes you excited, that you'd love to be excellent at and that you'd be happy to do every single day. He talks about the journey of "awesome" in a realistic way -- it's not a predictable, linear journey, and one that you have to keep working at all the time. He gives advice for identifying and addressing those fears and doubts that keep us from pursuing our dreams. He talks about pitfalls along the journey such as getting caught up in success, getting complacent, There's a lot of good action steps, starting with finding 30 minutes a day to start working on your awesome, and figuring out how you work best and finding a way to apply that to your awesome (for example: do you work best alone? in groups? with a partner? a little bit at a time? on a deadline? no deadline?).

I'm not great at summarizing books like this, and there was a lot to process. But overall, it's a solid, motivating, practical book written in Acuff's signature funny and witty style. It's got substance without being heavy. A recommended read for anyone who needs a little motivation to get started -- or re-started -- pursuing your dreams.