Reading...The False Prince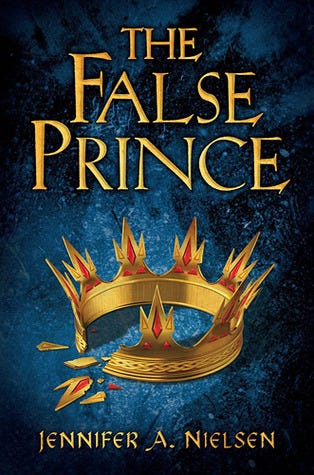 I've had The False Prince, by Jennifer A. Nielsen on my to-read list for about forever. I'd read a lot of good reviews when it first came out, and it sounded like my kind of book, but somehow, when it came time to pick up a new read I always forgot about it. Fortunately, a friend told me she'd started reading it right as I was in the need for something to read, and I borrowed it from the library that day (thank you Overdrive and ebook lending!).

The False Prince tells the story of Sage: a resourceful orphan and pickpocket who gets purchased by a wealthy nobleman with plans to save the country from war, both without and within. Sage and three other orphan boys are taken to the the nobleman's home and told that they will spend the next few weeks learning all they can about the country, about the royal family, about being a nobleman, and at the end, one of them will travel to the castle and claim the throne as the nation's lost prince, believed dead for the past several years.

There's intrigue, misdirection, and adventure. Nielsen's characters develop gradually over the course of the book, and it really feels like you get to know them by the end. There are relationships and alliances that develop and are broken, and a truly fist-pumping ending. I'm so glad this is the first in a series, and I'm even more glad that I waited to read it since I don't have to wait for the author to keep writing the next book!