Reading...The Hero's Guide to Saving Your Kingdom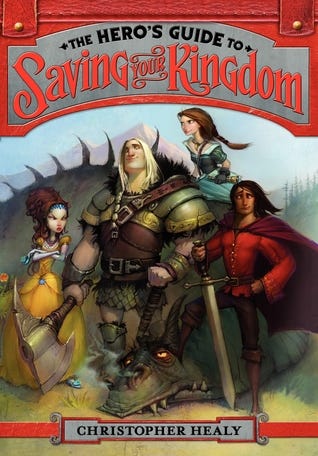 Welcome to the land of Fairy Tales. Where the Princes Charming have actual names, the Princesses don't need saving, the biggest villain in all the kingdoms is a 10 year old sociopath, and the Bards take plenty of poetic license when retelling a story.

The Hero's Guide is a delightful middle grade (3-6 grade) book that turns some of the classic fairy tales on their head. We may know the "official" version of how Prince Charming (Frederick) freed Cinderella from her wicked stepmother, but what do we REALLY know about Prince Frederick, or Princess Ella, Rapunzel and Prince Gustav, Snow White and Prince Duncan, Briar Rose and Prince Liam?

The Hero's Guide picks up after the "Happily Ever After," where life isn't happening exactly how you might expect for the Princes and Princesses. The witch from Rapunzel begins plotting an evil scheme, and Princess Ella sets off to figure out what happened to her kingdom's Bard and find some adventure in the process. Prince Gustav sets off to prove himself to his 16 older brothers, Snow White tells Prince Duncan to go take a walk, Prince Liam discovers his own kingdom loves gold more than they love him, against his better judgement (and the advice of his father) Prince Frederick sets off to find Ella. Before long, the Princes have banded together to save the day, but things don't exactly go according to plan.

The Hero's Guide to Saving Your Kingdom is fun and funny, and doesn't take itself too seriously. If you know a big kid (or are ocassionally a big kid yourself) who likes fairy tales, pick this book up. It's the first in a series, so the fun doesn't have to stop!