Reading....The Raven King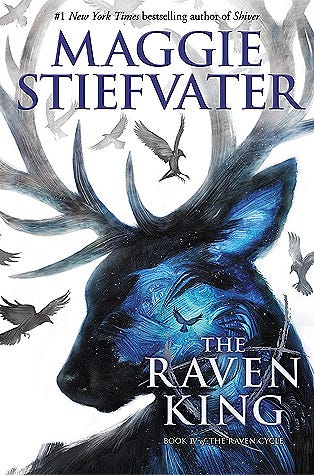 The Raven King is the fourth and final book in Maggie Stiefvater's Raven Cycle. Beginning with Raven Boys and on through The Dream Thieves and Blue Lily, Lily Blue, Steifvater tells us a story about magic, quests, friendship, family, destiny, love, sacrifice, and time. It's a wonderful story, and more than any of her books that I've read, it's clear that this story is the one Maggie's held in her mind and heart and soul for a long time (I think she said she started writing this story maybe 20 years ago?). It's written in Maggie's characteristically artistic style, simultaneously dreamlike and vivid and concrete. The story is layered -- there's a bit of epic quality to it, as one might expect when one of the main characters is on a lifelong quest to find a dead king along a magical superhighway. When one of the characters is fated to kill her true love with a kiss, and another is fated to die within a year. Yet, the story also zooms in close. It's about friends and family and small moments. About thinking you know something, and having your whole outlook on life turned on its head. The characters come to life, and you have to include Virginia as one of the characters. The mountains and forests and roads are a living, breathing part of the story. So. The Raven King. It was a satisfying ending, in the bittersweet way that the best series end. Meaning, you're left feeling like loose ends are fairly well tied, and yet there is life being lived beyond the final page. It's not a "and they all lived happily ever after" ending. Because there's clearly some ever after happening after this one story finished. But I love feeling like my friends are continuing on. My only real "complaint" about the final book is that I wanted more. More Gansey, more Blue, more Maura. But if that's the worst thing about it, then I can't complain.

Bottom line, I love this series. And you'll mostly get fangirl-style gushing from me.