Reading...The Undoing of Saint Silvanus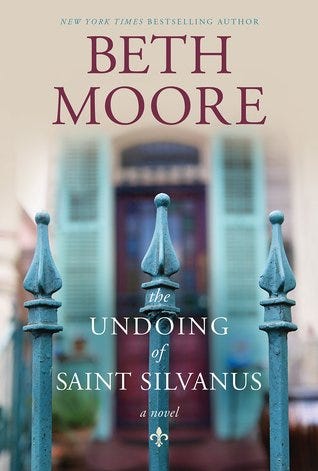 The Undoing of Saint Silvanus is Beth Moore's first foray into fiction, and I really enjoyed it. It's a little bit of a mystery, a little bit of a family drama, and a little bit of redemption story. It's set in New Orleans, and centers around the family and residents of Saint Sans, an old church turned boarding house/apartment house. Jillian, a young woman living and working in San Fransisco, gets a call from her estranged father's family letting her know that her father -- an alcoholic living for the most part on the streets -- has been murdered. Despite her mother's objections and her own misgivings, she heads down to New Orleans for the funeral. Jillian has a pretty big chip on her shoulder as the story starts. She's searching and lonely and subconsciously not really happy with her life (although she would tell you differently). The story and mystery and well-crafted, and the characters are a delight to spend time with -- even Jillian, as much as I wanted to smack her a few times. The real strength to this novel though, is the style. Beth tells the story like a classic Southern storyteller, rich in detail, sly commentary, and human observations.

Bottom line: a really good read.