Reading...The Way of All Fish and Fangirl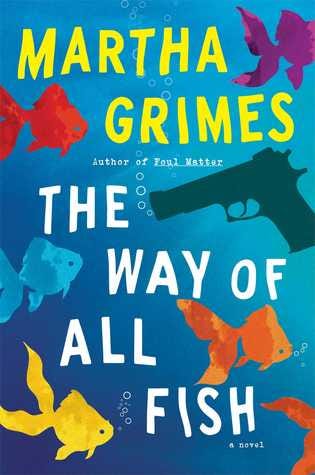 I am a big Martha Grimes fan, mostly her Richard Jury detective series. She has a few other non-jury books and series, but the only one I had read until The Way of All Fish was it's companion Foul Matter. Both books are a kind of dark comedy set in the publishing world. There's plotting and back stabbing and hit men and neurotic or not-so-neurotic authors. Ruthlessness and a bit of hijinks. I thoroughly enjoyed Foul Matter when I read it many years ago, but I have to say I only moderately enjoyed The Way of All Fish. On the positive side: Grimes' spot-on descriptions and elegant writing, well-drawn characters, good dialog, and an interesting plot. On the negative side: I feel like the book spent a lot of time on the set up. Like, 2/3 of the book easy, maybe even 3/4 of the book felt like a set up for the last third or fourth. There was a relatively large cast of characters, and I kept getting mixed up and bogged down. I enjoy a good slow paced book, but this book felt like it was slow paced when it should have been fast-paced. So it wasn't bad, per se, it just didn't hit the sweet spot for me. Bottom line: if you're a fan of slow-paced con stories, you might enjoy this, but it's not my favorite Grimes story.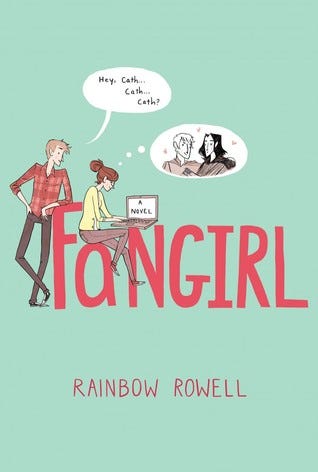 Fangirl is the story of Cath, a girl who'd rather be writing Simon Snow fanfiction than just about anything else. Cath and her identical twin Wren are off to their freshman year of college. Wren can't wait to get out and experience life, but Cath would rather stay home and keep an eye on their dad -- a loving single father who struggles with bipolar disorder. Cath would rather spend her days in the fantasy world of Simon Snow than just about anything else. But Cath moves into her dorm room and begins a year that will surprise her. A year of learning to make friends, branch out, and let go (just a little). She discovers a lot about writing and how collaborating can be fun and fulfilling, and how sometimes writing something one hundred percent of your own making is scary and hard. Fangirl has a lot of stuff going on: family drama, mental illness, romance, and your basic college stuff -- roommates and professors and classmates and ethics. I know some readers thought the book would have been better had there been maybe one less "issue", but I thought Rowell did a great job of keeping everything realistic. Seeing Cath's journey during her first year away from home was delightful, and yes, at times sad and somewhat painful. But that's life, right? Funny and heartwarming and sad and painful all at the same time. Rowell also really did a great job with the relationship dynamics in this book. Cath and her sister Wren, Cath and her Dad, Cath and Wren and their mom, Cath and her roomate and classmate and friend and love interest. All of it really felt true and genuine. And I like that there wasn't just one relationship focus. I'd also be remiss if I didn't mention one of the most fun things about the book, and that's the shout out to "fandom" -- the ins and outs of being a super fan, connecting to other fans, writing or reading fan fiction. Anyone who's ever loved a book or tv show or movie or artist in a somewhat all-consuming way will appreciate that aspect of Cath's life and the way Rowell wrote it.Bottom line: pick this book up if you are in the mood for something sweet, poignmant, and a little bit funny.