Reading...Throne of Glass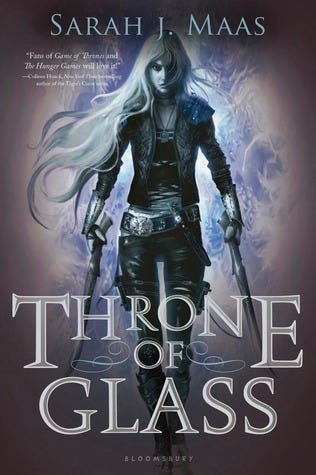 One of my very bookish (seriously, this guy reads like a book a day or something) friends recommended Throne of Glass by Sarah J. Maas quite a while back (the book is a few years old, after all), then hubby read it, and I finally got around to reading it this past week. This book is so much fun, y'all. It's action-adventure fantasy of the doesn't-take-itself-too-seriously variety: a cruel, possibly wicked king-turned-emperor, a gifted and snarky teenage girl assassin, a too-handsome-for-his-own good prince, a serious and honorable (and handsome, duh) captain of the guard, a competition among thugs, assassins and heavies, and forbidden magic.Celaena Sardothian, formerly the most famous and notorious assassin in Adarlin, was betrayed and sent to a prison camp where she is beaten and half-starved and nearly broken. Then the crown prince of Adarlin shows up offering her a deal: his father is holding a competition to choose a personal assassin -- a "King's Champion." If she competes as the prince's champion and wins, she will sign a contract with the king for four years, after which she will earn her freedom. It's an opportunity too good to pass up, although the competition and life in the glass castle don't really turn out quite as she expects.

There are times when I had to roll my eyes at a bit of cheesiness, and a few times I wanted to slap the characters upside the head because WHY DON'T YOU SEE WHAT'S HAPPENING! There is a love triangle -- not my favorite kind of romantic plot device -- but it doesn't distract from the rest of the story, so it didn't really bother me. For me, the strength of the book is in it's fast-moving and fun plot, and in its characters. I love Celaena. I love that she's sarcastic and smart-mouthed. She's arrogant and full of herself, probably because she's the best at what she does and knows it. She's a bad-a$$ assassin, but also a teenage girl who loves clothes and luxury and shopping and looking pretty. Her heart yearns to fly free, but she keeps it caged up.

This book is fun, although there is still plenty of blood and fighting and one or two legitimate monsters. Bottom line: solid action fantasy with a great main character.