Two books and a movie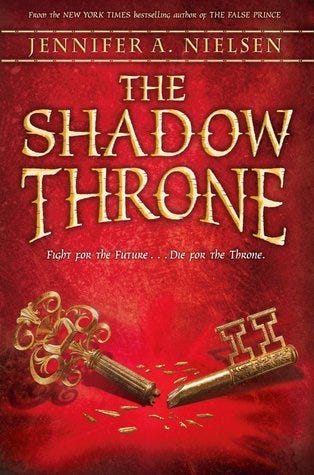 It was a good weekend for stories at my house. First, I finished The Shadow Throne, by Jennifer A. Nielsen (third book in The Ascendance trilogy) and was a solid, satisfying ending to this fantasy trilogy. I'm not going to say much about the plot so as not to give away any spoilers, but I can tell you that this trilogy's strength lies in its tight pacing, great characters, and the various relationship dynamics. There may be a little romance in the books, but the story doesn't hinge on that, which was refreshing. And while the story itself isn't groundbreaking, it told a familiar story in a fresh voice and felt like the best kind of comfort food.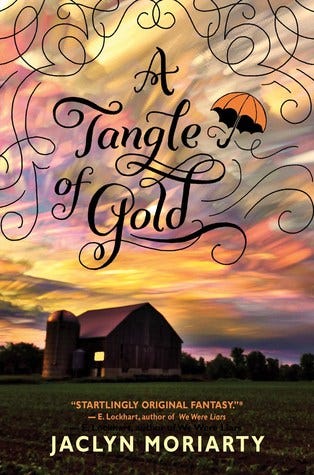 I also devoured A Tangle of Gold, by Jaclyn Moriarty, another trilogy conclusion (The Colours of Madeleine -- apparently this was also the weekend of trilogies). I can't say enough how much I enjoyed these books. For one thing, worldbuilding is unique and magical, grounded in reality, but a slightly bent and colored reality. Second, it's just a good story, and as the story unfolds, I kept telling myself "this isn't what it seems" or "this has to mean something" and "wait a second..." The author does a good job of gradually pulling all these teasers and hints and glimpses into focus throughout the trilogy, and in this book in particular. It's also a book with characters that started feeling like friends. I appreciated how the characters grew and developed and learned and weren't stagnant. The books are fun, but with depth and substance, and basically, these books are delightful. I didn't want it to end and I wanted to hang out with everyone in it forever.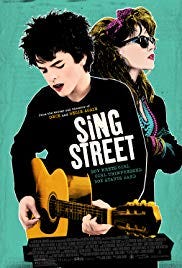 And finally, Sing Street. Y'all. This movie. I seriously wanted to watch it again as soon as I finished it, although preferably with a friend to share the experience. Sing Street has been on my radar for a while, and I'm so glad I finally pressed play. It's set in 1980s Dublin, where we meet Conor, a 15 year old boy who loves music. When the movie starts out he's been sent to a new school. It's rougher than his old school, and he runs into bullies both in his peers and in the school administration. He meets Raphina -- older, mysterious, edgy, and gorgeous. He tells her he's in a band and wants to use her in a music video so he can get her number. When she says okay...well, then he's got to start a band. The movie is about music, friendship, growing up, finding your voice, falling in love, heartbreak, hope, family, and taking chances. It's a coming of age movie, a brother move, a friend movie, a romance. (And for real: the number one relationship of this movie is not Conor and Raphina, it's Conor and his older brother Brendan. Such a great and unexpected part of the movie (on a side note: I kept thinking the actor looked like a cross between Chris Hemsworth and Chris Pratt). In addition to the brother story, I think all the supporting characters just really elevated the whole film. No matter how seemingly small a part, each character was exactly pitch perfect. Eamon, Barry, Ngig, Penny and Robert and Ann, Brother Baxter....all of them, just super solid. Anyway, I loved this movie. Loved it, loved it, loved it.